Piranesi's graphic archive: The use of ornament drawings in the design process of the Diverse maniere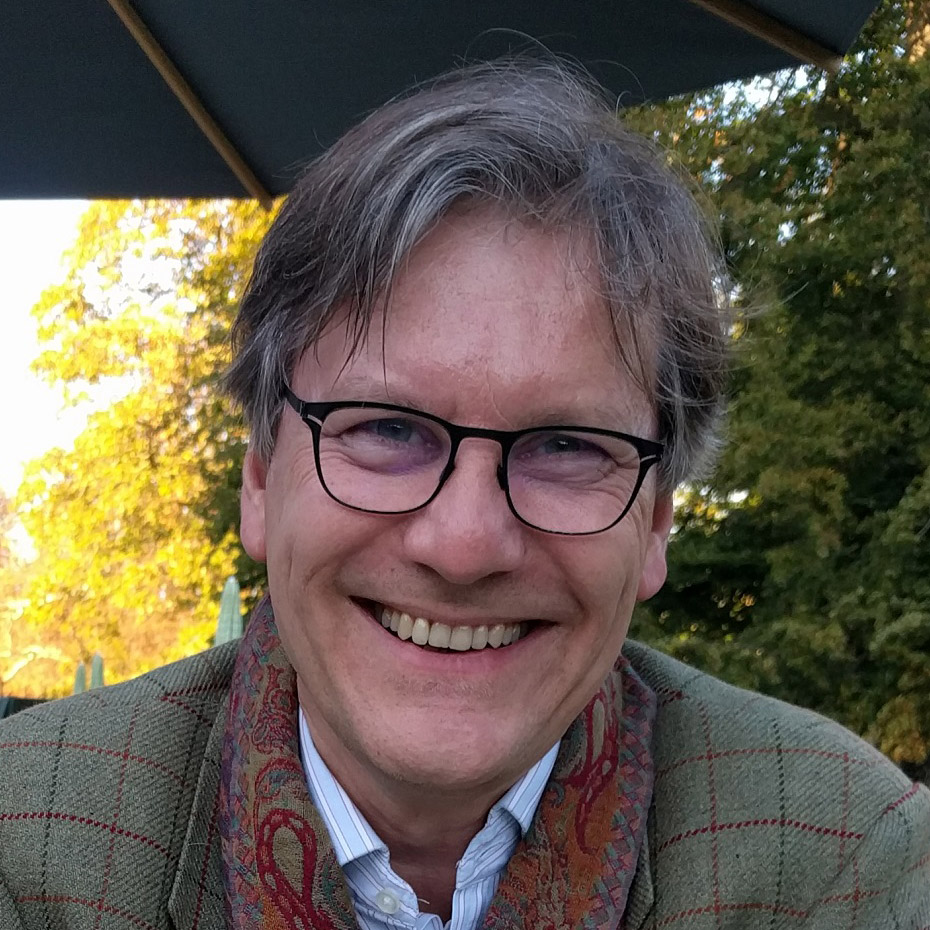 Stefan Morét
Storico dell'arte, curatore nel progetto di ricerca Disegni di Giovanni Battista Piranesi e della sua bottega alla Staatliche Kunsthalle di Karlsruhe
The Staatliche Kunsthalle Karlsruhe houses the graphic estate of the neo-classical architect Friedrich Weinbrenner (1766-1826), to whom the city of Karlsruhe owes much of its 19th-century appearance. This includes two large-format albums with 297 drawings, many of them after ancient monuments in Rome.
However, these albums do not contain Weinbrenner's own studies, but material from the workshop of Giovanni Battista Piranesi, as Georg Kabierske was able to prove during an internship at the Kunsthalle in summer 2014 . The architect Weinbrenner had probably acquired the drawings from Francesco Piranesi during his stay in Rome between 1792 and 1797.
Apart from a small number of around 20 sheets by Giovanni Battista Piranesi himself, the Karlsruhe albums contain mainly drawings by the workshop members. The large number of drawings based on Roman ornaments and antique architectural sculpture clearly shows that the young architect Weinbrenner selected the drawings with a view to his future building tasks .
The significance of the Karlsruhe collection lies in the fact that, for the first time ever, it provides an insight into the working processes in Piranesi's studio and, as Carlo Gasparri recently pointed out, also an idea of his picture archive .
In the following, I would like to concentrate on a group of ornament drawings and examine more closely the role these drawings played in the designing process of the fireplace series . For the series of Diverse maniere d'adornare i cammini published in 1769, more preparatory drawings have been preserved than for any other work by Piranesi . However, these are "prime idee", i.e. sketches that were done quickly and often vaguely, in which Piranesi explored the interaction of different ornaments or tried out different ornamental solutions.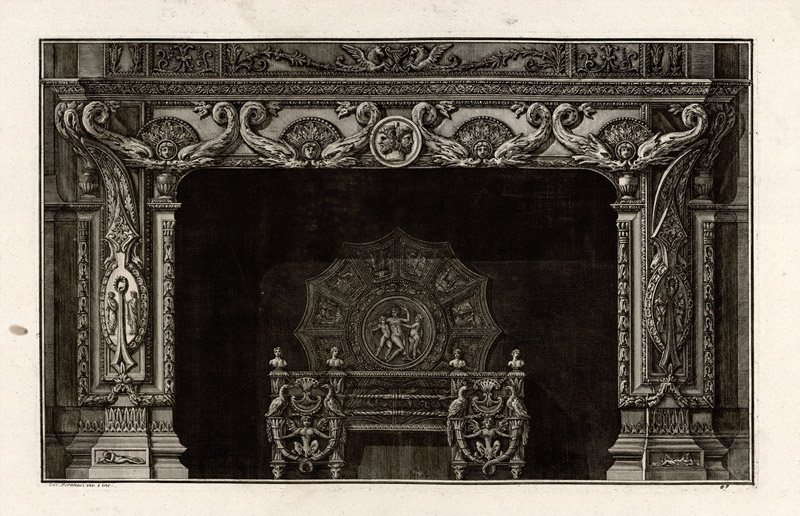 Much of this is merely hinted at in a kind of shorthand. In many cases the drawings can be related to etchings, but often only a glance at the etching reveals which individual form or ornament was meant in the sketch. It is therefore hard to imagine that these sketches were the only preliminary drawings for the cammini.
In 1994 Roberta Battaglia was able to show in a fundamental article with numerous examples that Piranesi used the antiquarian literature of his time for many individual motifs that appear in the cammini . In doing so, he copied the antique objects depicted in Montfaucon, Antiquité expliquée, Gori, Museum Etruscum, Pitture antiche d'Ercolano, Caylus, Recueil d'Antiquités as well as in publications by other authors and put them into novel decorative contexts in his fireplace designs. The proportion of motif adoptions is particularly high in the case of fireplaces or decorations in the Egyptian style .
For those fireplaces designed in the antique Roman style, it has so far been possible to determine antique Roman models in individual cases only . Battaglia therefore assumed that Piranesi, as a good connoisseur and industrious draughtsman of the ancient monuments of Rome, had mastered this extremely wide-ranging material so well that he was able to move from one quotation to the next with the greatest freedom and impartiality .
The Karlsruhe holdings now allow a more precise idea of how Piranesi designed the fireplaces based on Roman models. And likewise, the role of his drawing archive, part of which is preserved in Karlsruhe, can be defined more precisely. A first example is the large-format drawing of a Dea Roma in front view and in profile.
The sheet represents a final drawing based on sketches made on the spot, as can be concluded from other drawings in the Karlsruhe collection. The antique model is a figurative keystone on the Ianus Quadrifrons, which, however, appears in the drawing to be strongly complemented. The drawing was most probably made by the French draughtsman and ornament sculptor Nicolas-François-Daniel Lhuillier (1736 - 1793), who worked for Piranesi until 1768. For the design of the fireplace on plate 30 of the Diverse maniere Piranesi used Lhuillier's reconstructed profile view, which he strongly reduced and mirrored twice. In the etching it thus appears as a kind of capital.
In Karlsruhe there are two sheets in large format (181 x 688 mm and 191 x 945 mm) by the same draughtsman Lhuillier, which were once mounted together and which show a grisaille frieze on the façade of Palazzo Massimo Istoriato in the Roman Piazza de' Massimi. The frieze, which forms the lower end of the decoration of the façade carried out in 1523, was already partially destroyed and difficult to decipher in the 18th century. The drawing therefore deviates in some details from the historical model. Among artists in the second half of the 18th century, the frieze with the seated goddesses of victory must have had a certain fame, as there are a number of drawn copies.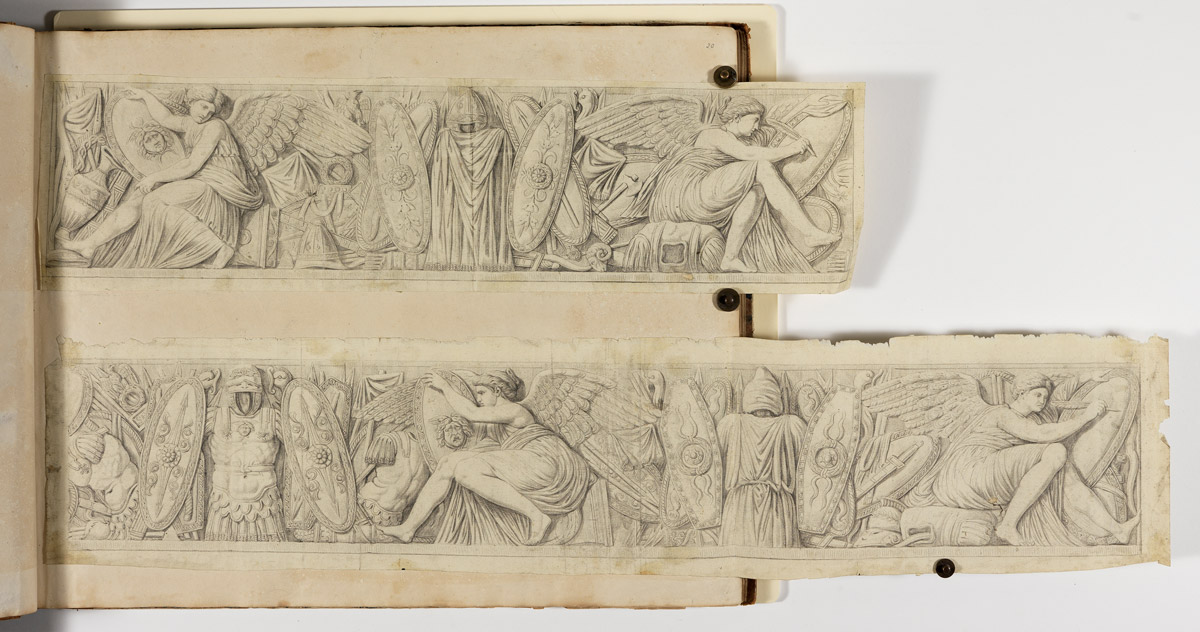 A part of the depiction was used by Piranesi in 1769 in plate 43 of the Diverse maniere d'adornare i cammini. In the etching, the frieze section, supplemented by additional flanking hexagonal shields and a framing egg and dart, appears in a much smaller format (40 x 190 mm).
Battaglia has pointed out that on plate 51 of the Diverse maniere Piranesi has used the garland sarcophagus from the Mausoleum of Augustus which was later sold to England and subsequently to Russia. In Piranesi's archive there was a drawing of this sarcophagus, in folio fomat, which can be attributed to Lhuillier as well. Piranesi used the frieze of the lid from it, which on the etching appears reversed and strongly reduced.
Yet another drawing in Karlsruhe can be related to this etching. The fireplace on plate 51 is framed by pilasters decorated with a leaf vine. A drawing of these leaf tendrils exists in Karlsruhe, the antique model of which, a pilaster fragment, is today in Sir John Soane's Museum in London.
Further examples from Karlsruhe could be added to the drawings shown so far. All are large-format drawings of ancient Roman ornaments, which were executed not by Piranesi himself but by members of his workshop. Such drawings which documented antique ornaments or antique motifs must have existed in Piranesi's workshop collection in large quantities. Some of them are preserved in Karlsruhe. These drawings allowed Piranesi to select single motives of antique art or decoration for the design of his chimneypieces. When designing the fireplaces Piranesi used the drawings available in his studio archive in a similar way as he used the illustrations in antiquarian publications of his time. It is characteristic of Piranesi, that he completely ignored the traditional rules of architecture. Instead in his Diverse maniere he developed a purely decorative approach on the basis of a collection of meticulously drawn antique examples.
After what has been said so far, it still remains an open question how the initial pen sketches for the fireplaces and the large-format ornament drawings were put together. A fragment of a preliminary drawing for plate 14 of the Diverse maniere in the Karlsruhe collection which has recently been discovered on the verso of a drawing can give an idea of how Piranesi combined the motifs coming from various sources on one sheet. The Karlsruhe fragment has exactly the same size as the corresponding part of the etching.
G. B. Piranesi, Diverse maniere d'adornare i cammini
G. B. Piranesi, Diverse maniere d'adornare i cammini, 1769, tav. 14
1 di 2
It is therefore a piece of the direct preparatory drawing, with the help of which Piranesi transferred the composition onto the printing plate.
Accordingly, Piranesi did not etch the various antique motifs directly onto the plate, but created a preliminary design of the entire composition, similar to the Vedute di Roma . As with these, it can be seen on the Karlsruhe fragment that not every small detail appears to have already been determined.
In many cases, after the etching was completed, the direct preparatory drawings were cut up in the Piranesi workshop in order to make new drawings on the back of the paper. This also happened in the case of the preparatory drawing for plate 14 of the Diverse maniere, on the recto of which there is a drawing of a bucranium. For Piranesi, who was interested in the final product, i.e. the etchings, the preparatory drawings seemed hardly worth keeping. In contrast, the large-format ornamental drawings by the workshop members ended up in the workshop archives, from which they could still be acquired by Weinbrenner in the 1790s.
---
Galleria delle immagini in sezione
---
---
Riferimenti bibliografici
Battaglia, Roberta (1994): "Le 'Diverse maniere d'adornare i cammini…' di Giovanni Battista Piranesi. Gusto e cultura antiquaria", in Saggi e memorie di storia dell'arte 19, Casa Editrice Leo S. Olschki, pp. 191-273.
Fischer, Marianne e Jacob, Sabine (1975): "Italienische Zeichnungen der Kunstbibliothek Berlin", in Architektur und Dekoration 16. bis 18, Berlin, Staatliche Museen Preussischer Kulturbesitz, pp. 172-177.
Gasparri, Carlo (2017): "Piranesi e il suo archivio di modelli di architettura", in Ginevra Mariani (a cura di), Giambattista Piranesi. Matrici incise 1761-1765, Roma, Editalia, pp. 27-37.
Kabierske, Georg (2015): "A cache of Newly Identified Drawings by Piranesi and his Studio at the Staatliche Kunsthalle Karlsruhe", in Master Drawings, 53, 2, pp. 147-178.
Kabierske, Georg (2015): "Weinbrenner und Piranesi: Zur Neubewertung zweier Graphikalben aus dem Besitz Friedrich Weinbrenners in der Staatlichen Kunsthalle Karlsruhe", in Friedrich Weinbrenner (1766-1826). Architektur und Städtebau des Klassizismus (Ex. Cat.), Petersberg, pp. 75-87.
Kabierske, Georg (2016): "Vasi, urne, cinerarie, altari e candelabri. Newly identified drawings for Piranesi's antiquities and sculptural compositions at the Staatliche Kunsthalle Karlsruhe", in Francesco Nevola (a cura di), Giovanni Battista Piranesi. Predecessori, contemporanei e successori. Studi in onore di John Wilton-Ely (Studi sul Settecento Romano, 32), Roma, Sapienza Università di Roma, Edizioni Quasar, 245-262.
Klemm, David (a cura di) (2009): "Italienische Zeichnungen, 1450-1800", in Hubertus Gassner e Andreas Stolzenburg (a cura di), Die Sammlungen der Hamburger Kunsthalle Kupferstichkabinett vol. 2, Köln, Bohlau.
Morét, Stefan (2018): "Due album di disegni di Giovanni Battista Piranesi e della sua bottega dal lascito dell'architetto Friedrich Weinbrenner (1766-1826)" in Vita Segreto (a cura di), Libri e album di disegni 1550-1800. Nuove prospettive metodologiche e di esegesi storico-critica, Roma, De Luca Editori d'Arte, pp. 203-212.
Morét, Stefan (2019): "Drawing antique Ornaments in Piranesi's Workshop", in Proceedings of the international conference on Red Chalk Drawings (Firenze, settembre 2019).
Robison, Andrew (2011): "Giovanni Battista Piranesi, The Canopus of the Villa Adriana at Tivoli" in Bulletin / National Gallery of Art (Washington), n. 44, primavera, pp. 24-25.
Stampfle, Felice (1978): Giovanni Battista Piranesi, Drawings in the Pierpont Morgan Library, New York, Dover Publications Inc.
Vowles, Sarah (2020): Piranesi drawings. Visions of Antiquity. Drawings from the British Museum, Londra, Thames & Hudson Ltd.
---